Her Words Inspired Us All
"I came to the shelter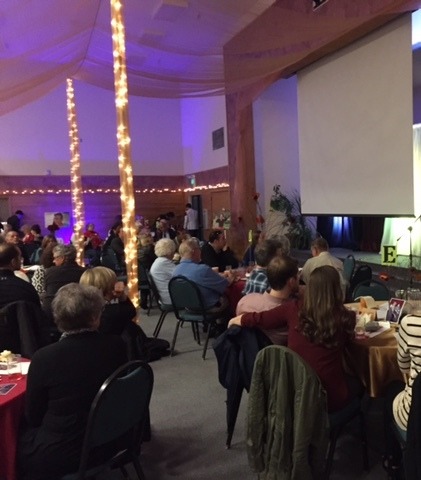 being consumed by all I had lost, but I was shown that I had the key to unlock the door to my future, and that of my children." ~ Sandra*, mother of 3. (name changed for privacy)
As the keynote speaker at Always a Time to Bloom, our October 2015 fundraiser dinner, Sandra's words were a powerful testament to both the real struggles that homeless families face, and the importance of safe havens like The Family Shelter that give families a place to breath, regroup and move forward. Judging by the tears in the room, she inspired many of us to deepen our commitment to ending family homelessness.
Many thanks to Sandra for her courage in sharing her story.
Facing Homelessness ~ In Sandra's Words:
"I am a native of Edmonds, WA, and in 2015, I moved into the Interfaith Family Shelter with my 3 kids.  For the previous couple of months, my son and I slept in a cab of a truck, usually in the Walmart parking lot, while my teenage daughters stayed with various friends of theirs to finish out the school year."
Sandra's brave act of speaking out, and standing up to be counted, gives a face to the blind statistics:
"38% of homeless have mental health issues that are not being treated; I am one of the 38 %….I am also included in the almost 90 % of homeless women who have experienced severe abuse by an intimate partner. And even though I have been clean and sober since August of 2008, the wreckage created from a severe drug addiction takes years to repair, so I also include myself in the almost 40 % of homeless who have substance abuse in their life."
She shares about all that she has lost:
"Having shelter, a place to go, is one of the basic necessities of life, along with food, water, and companionship. To not have this is a feeling impossible to put into words—the guilt, the shame of having innocent children be in this situation is so heavy, this is the kind of thing that can be so overpowering it can build a locked door, blocking a future for myself, my kids.  As we walked in to the shelter that first day, all of us in one room, our thoughts were full of what we had lost, how we had got to this place."
…And the unexpected blessings she gained while living at the shelter:
"I came to the shelter being consumed by all I had lost, but when I left, I could think of all we had gained while living there.  The most important to me is for my family to experience the goodness of others, and to experience firsthand that everyone makes mistakes in life. We all might need a hand up, and by offering someone else a hand, it only enriches our own life, as well as the life of another.  Without the Interfaith shelter, I do not know where we would be today. But, I know that because of the love, and support shown to me, I recently moved in to a 3 bedroom apartment with my kids."
She acknowledges the bridge to stability that was built and will continue to grow:
"I never felt looked down upon for my past, for the reasons I came there. While I was not judged for the poor choices I had made in the past, these choices were addressed and goals were set to ensure that my family would not become one of the thousands of chronically homeless in this country….I was shown that I had the key to unlock the door to my future, and that of my children."
The success of families like Sandra's depends on the generosity of our supporters. Help us continue to provide essential shelter to families by contributing to our 20th Anniversary Campaign.
Learn more about our 20th Anniversary Campaign
---