Interfaith in the News!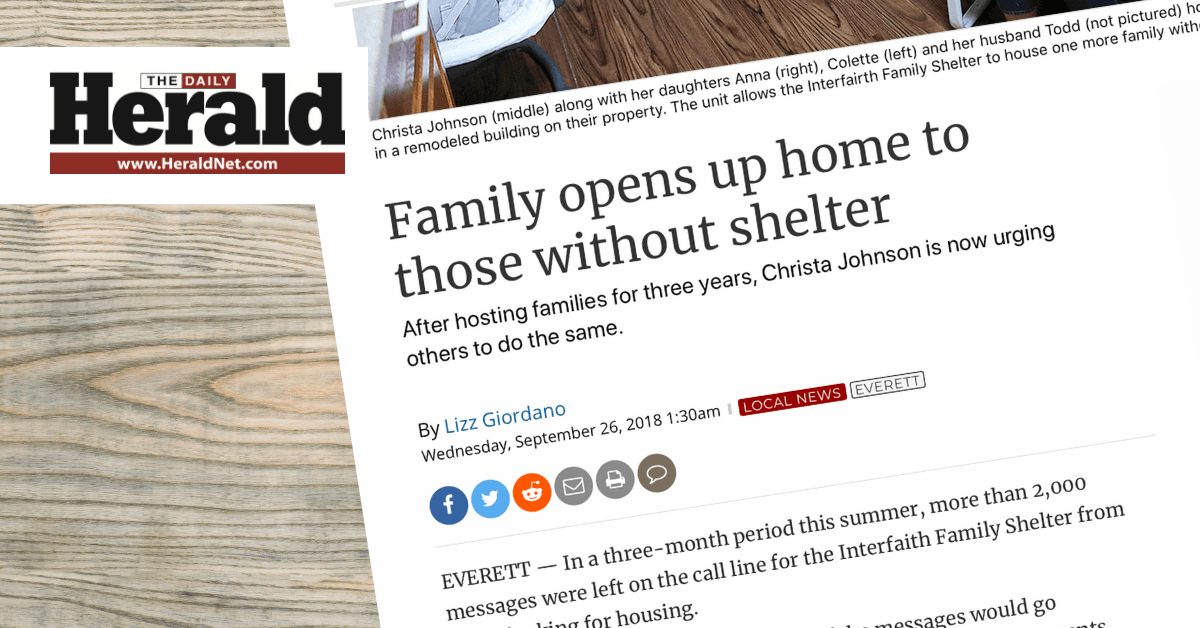 Challenging the stigma of homelessness
If you missed it, be sure to check out front page of The Daily Herald from Wednesday, September 26 for an inspiring article! Christa Johnson and her family are challenging the stigma of homelessness while expanding The Family Shelter's capacity through a unique partnership.
We are so grateful to Christa and her family for creating and providing another space where Interfaith can place families experiencing homelessness.
Excerpts
Sitting in a cozy living room as sunlight streamed in from a picture window, Johnson recalled thinking about all the unused bedrooms and spaces in the county.

"What if people who have a mother-in-law unit or a daylight basement hosted families?" Johnson said. "But I knew I couldn't ask others to do that if I haven't done it myself."

Johnson said each family brings their own story — one was sleeping under a church's stairs, another was living with two teenagers in a truck. For many, living in the apartment, just steps away from the Johnson's back door, has allowed them to save for their own place. The Johnsons have hosted nine families in the last three years. They have stayed anywhere between two weeks and eight months.

Families are vetted and placed in the home by Interfaith. The group also provides case management services.
Christa hopes this story will inspire
In a three-month period this summer, more than 2,000 messages were left on the call line for the Interfaith Family Shelter from those looking for housing. If you're inspired by Christa and are interested in helping expand Interfaith's reach, contact us!
---