Kids Helping Kids
Sixty percent of residents who stay at our shelter each year are children, which is one reason why we love it when young people volunteer with us. The energy and enthusiasm they bring is contagious.  And the learning that happens when peers support peers is a two-way street. We thought we'd highlight two great ways in which youth have made a difference at the shelter recently.
Learning Hour with students from Archbishop Murphy High School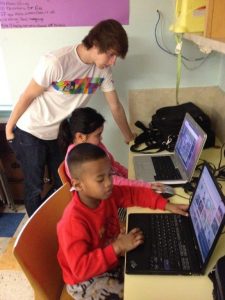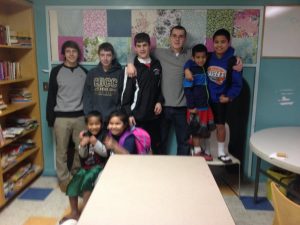 We currently have eight students from Archbishop Murphy High School who volunteer as tutors during learning hour, a weekday evening program for elementary school children. Over the past two years, we've developed a great informal partnership with the high school and have welcomed a dozen additional student volunteers during that time. The learning, laughing and relationship building that happens is invaluable.
A Birthday Book Drive
When Thandiwe planned her 11th birthday, she decided to do something a little different. Instead of getting gifts from her friends, she wanted to give back. She called Mr. P., our Children's Advocate, and asked if the kids at the shelter needed new books. Of course! Thandiwe and her friends gathered over fifty new books to stock the shelves of the children's activity room. What a great idea for a memorable and meaningful birthday. Thanks Thandiwe!
---